Join the fitness revolution...
Get fit, lose weight & build muscle like never before...
Can you say yes to any of these statements?
I don't always like or have the time to hit the gym

I find Cardio boring and time consuming

I don't have the space for a full home gym

Sometimes I'd like to work out while on the move

Lifting weights makes my joints ache

I'd love to get fitter, stronger & leaner

 
Improve your balance

Reduce joint pain,

Tone & cut fat,

Increases speed & acceleration

Build muscle mass.
See more progress with just three 15 minute Gorilla Bow workouts per week than jogging on a treadmill for an hour every day…
Yes Really!
Imagine being able to do anything you can do in a gym anywhere you like, with just one piece of kit!
And it doesn't matter what your current strength or fitness level is either… it's designed to adapt to your workout level with the interchangeable, easy to adjust band settings. You can go from 5 pounds to over 200 pounds in your workout. it's that simple!
As a result, you'll burn more calories and fat while you're exercising and continue to burn the calories and fat during the repair cycle — up to 24 hours post workout!!!
Hit every muscle group

Give you the Freedom to workout wherever you like

Save time, by providing shorter more efficient workouts

Maximise Fat Burning & Muscle Building

Improving balance

Improve Flexibility

Reduced risk of injury

Superior calorie burning

 
GET RESULTS
WITH NO RISK
With our no risk Guarantee and total fitness promise, you can get in shape and achieve your goals or get your money back.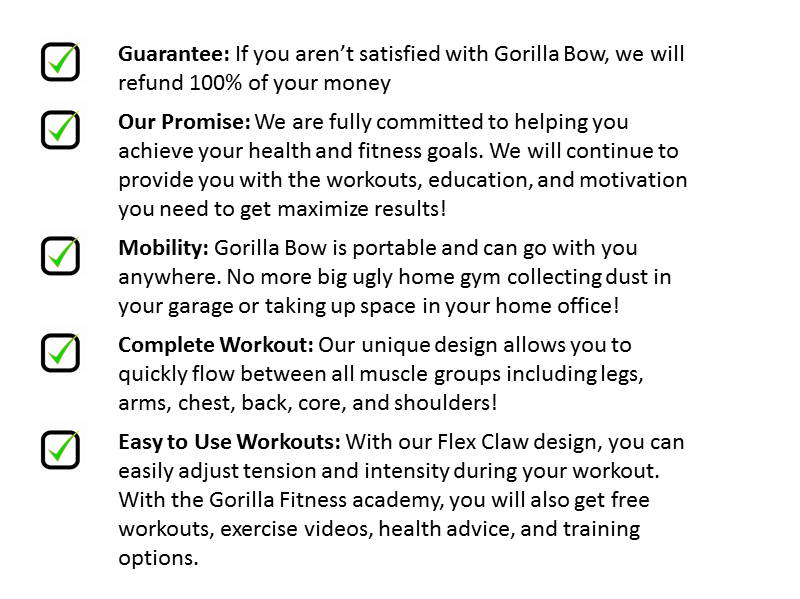 Includes 1 Gorilla Bow, 4 resistance bands (110+ pounds of resistance), accessory case, and band wrap

Easy and fun to use for all levels of fitness

Supports every strength level, fitness goal, and workout routine

Dozens of workouts covering all muscle groups (video tutorials included)

Super strong Aircraft aluminum capable of handling over 300 pounds of tension

Add additional bands for advanced workouts - Capable of handling up to 6 resistance bands
Includes FREE online Gorilla Bow exercises & workouts!
PLUS 90 Day money back Guarantee & 2 Year Warranty

GET RESULTS

WITH NO RISK
Work every major muscle group with cutting edge resistance band technology...